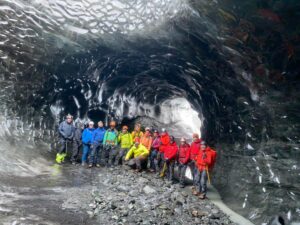 Svo lengi lærir sem lifir og í okkar fagi eykur menntun öryggi og fagmennsku.
Fyrsta íshellanámskeið AIMG fór fram dagana 22-23 febrúar s.l.
Tólf nemendur voru mættir til leiks til að auka færni sína í íshellaleiðsögn. Leiðbeinendur voru Einar Rúnar Sigurðsson og Garðar Hrafn Sigurjónsson
English version
You learn as long as you live and in our profession, education increases security and professionalism.
The first AIMG ice cave course took place on February 22-23.
Twelve students signed up to increase their skills in ice cave guidance. Supervisors were Einar Rúnar Sigurðsson and Garðar Hrafn Sigurjónsson